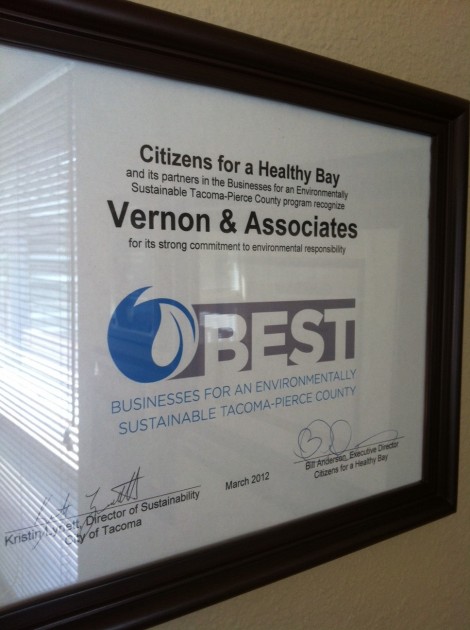 Happy Earth Day from all of us at Vernon Court Reporters!
Sustainability is extremely important to us, and we hope it is for you, too! Did you know we're one of Pierce County's BEST Businesses, or Businesses for an Environmentally Sustainable Tacoma-Pierce County? It's true. This means we've used a carbon footprint calculator to help us become more environmentally sustainable.
Here are a few ways we reduce our impact on the environment:
— Any of our printed transcripts or other materials are printed on 100 percent recycled paper
— Our building was remodeled with sustainable and green materials. We used low VOC paint, sourced some of our furniture locally, and installed recycled carpet squares that are easy to change out instead of replacing all the carpet
— We've reduced printing of bills, transcripts and other materials
— We carpool or walk to work
— Our office light bulbs were switched to CFL bulbs
— We installed a video conferencing system so our clients wouldn't have to travel for depositions or meetings
As your court reporting or transcription firm, you can be confident we've got sustainability on the mind! Happy Earth Day!